One of the distinguishing features of classical education is we refuse to "teach to the test." Instead, we immerse students in the great conversation of Western, Christian Civilization, exposing them early and often to the best minds humanity has ever produced. We seek the intellectual, moral, and spiritual development of our students above all, but when it comes to the standardized tests obsessed over in conventional schools, we are content to "let the chips fall where they may."
Yet, in following the wisdom of the ancients in our approach, the results speak for themselves. Member schools of the Association of Christian & Classical Schools (ACCS) produce students whose SAT scores are, on average, 325 points higher than public schools, 191 points higher than conventional religious schools, and 138 points higher than secular private high schools.
How does this happen when most classical schools don't formally prep for the SAT as part of the curriculum? Why does it seem like ACCS students easily handle the SAT "without even trying?"

Why Classical Education Produces The Highest SAT Scores
The answer is simple: our curriculum broadens students' minds better than any alternative. The SAT seeks to measure students' reasoning ability. Classical education teaches students how to think, not simply what to think. In summary, the skills tested on the SAT are exactly the reasoning skills taught best by a classical curriculum and desired by selective colleges in their students.
Students who read ancient masters like Herodotus easily master SAT Reading passages. Students who have rigorously studied the rules of formal logic don't get tripped up by trick SAT math questions. Students who have mastered the highly technical Latin language have a deeper understanding of English grammar and easily solve SAT writing problems.
Dominion offers an education that is thoroughly Christian, free of indoctrination and propaganda, and prepares students for college better than any conventional school. Our parents can rest assured that their children are enjoying the best possible education: morally, spiritually, and academically.
Is your family ready for an education without compromise? Take the next step and learn how to apply.
SAT Scores Of ACCS Schools: Detailed Statistics & Commentary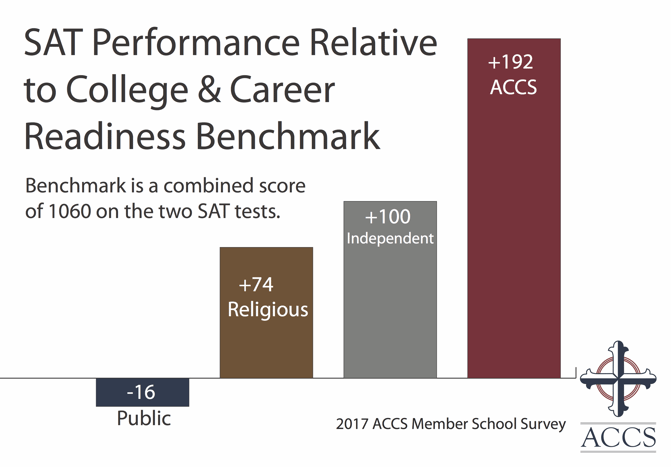 In this chart, we see several things. First, we notice the substandard performance of public schools in preparing students for college. Second, we observe that independent schools achieve superior outcomes to public schools.
ACCS schools like Dominion, however, greatly exceed even this improved performance among conventional independent schools despite an approach that largely avoids direct prepping for standardized tests. What accounts for the ACCS advantage? Let's take a look at a more detailed breakdown of these results: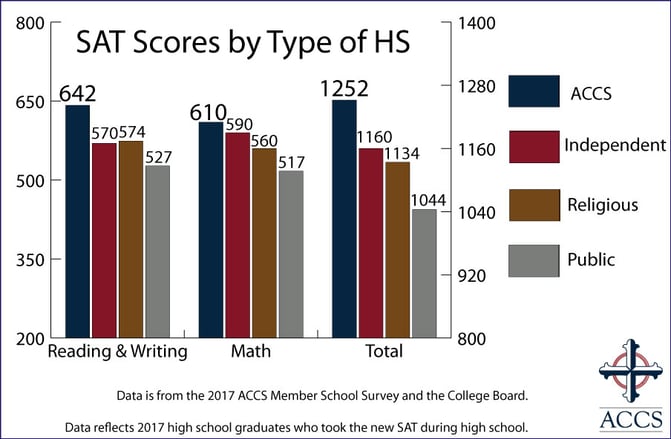 When we look at the individual test components, the ACCS advantage is more significant in the verbal tests than the math tests, where ACCS schools only enjoy a slight advantage. This is clearly reflective of two things: the rigor of the reading and writing in ACCS schools, and the teaching of Latin.

Conventional school curriculums simply do not challenge students verbally. Classical schools, by contrast, typically read high school level texts in junior high, and read college-level texts by high school.

The SAT Verbal is notorious in test preparation circles for being difficult to prep. Simply, there is no easy replacement for years of exposure to the world's greatest literature, nor is there an easy way to convince students to change their reading habits to improve their SAT scores.

By developing a taste for good literature early, students of classical education naturally have their verbal palate expanded to easily handle whatever difficult passages they might encounter on the SAT, and for the rest of their life for work and their own enjoyment. Since classical education students also study Latin, many otherwise mysterious vocabulary words are easy to decipher in context.

Verbal skills are also more closely related to life success than math skills. After all, it doesn't matter how much you know if you cannot effectively communicate. This is probably why the National Merit Corporation awards their scholarships based on a verbal-heavy modification of the PSAT score know as the National Merit Scholarship Qualifying Test (NMSQT).

The NMSQT is calculated by doubling a student's verbal PSAT scores and adding those to the student's math PSAT score. That means verbal scores are twice as important as math scores in determining National Merit Scholarships. This is one of the highest national academic honors for high school students, and often the gateway to full-ride scholarships to major schools.

ACCS students, not surprisingly, also do extremely well on the PSAT:
Many Christian parents feel trapped by an impossible choice. Do we protect our children at the expense of reduced opportunities? Thankfully, the results at ACCS member schools like Dominion show that there is no need to compromise. The education that best prepares students morally and spiritually also produces the best academic outcomes. Would Dominion be a good fit your family? Learn more about how to apply.
Used with permission by Tom Owens of Veritas Classical Academy, Beaumont, TX.