Is Kindergarten at Dominion Christian School a good fit for my child?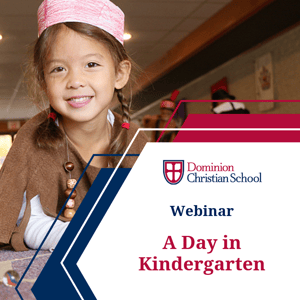 It's a question on the minds of many parents of young children in the Northern Virginia area.
If you are in the process of comparing the benefits of various early education programs for your child, we encourage you to watch our on-demand webinar for a deep dive into the distinctive features of the kindergarten program at Dominion Christian School.
During the webinar, you will:
Meet the Kindergarten teacher
Learn about daily routines and special events for kindergartners
Hear what current parents and students love about the program
Review outcome goals and curriculum for the class
If you know a family or friend who may be interested with this topic, please let them know that this free resource is available!